Are Gaming Laptops Worth the Price as Compared to Desktops?
by Ashok Pandey
December 26, 2022
0 comments
Earlier, most gamers would prefer to buy a desktop for their gaming needs, but over the last couple of years, the preference has shifted to gaming laptops for many of them. Thanks to developments in technology, gaming laptops offer excellent performance along with portability. However, it's not as if gaming desktops are no longer in demand. They are still preferred in many scenarios due to their higher upgradability and better ventilation. Let's evaluate both options to help you decide what's right for you.
Benefits of Owning a Gaming Desktop
Unlike traditional tower-based desktops, the gaming desktops have a wow factor when it comes to their looks. For instance, if you take a gaming desktop like OMEN by HP, it has a design that gamers can feel proud of showing off to their friends. The design is so powerful and high-tech that your friends will envy you for owning it. On top of that, if you connect two monitors and a couple of gaming accessories, it will set you a league apart as a gamer. One of the side panels of the desktop is made of glass so you can see inside. There are lots of fancy LEDs inside that makes everything look really high-tech when you're in a gaming session.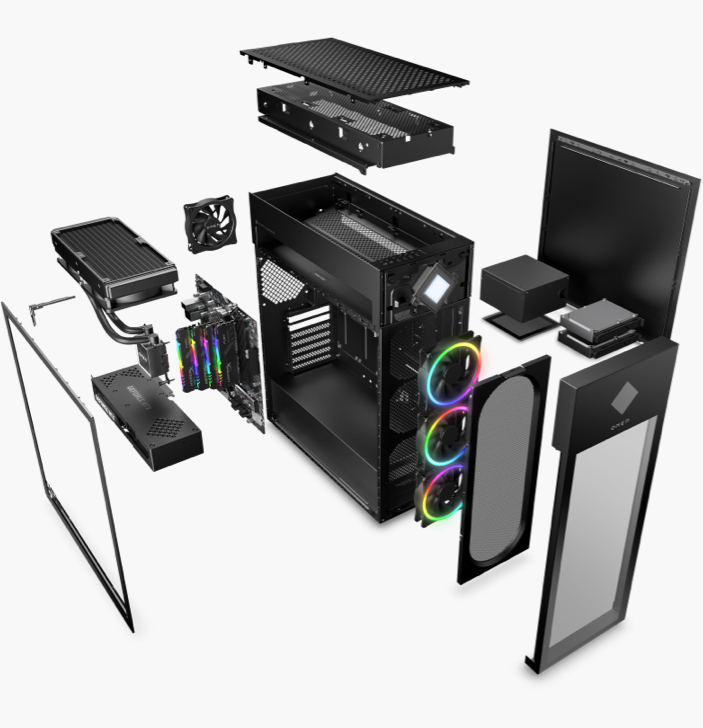 Looks aren't the only attraction of owning a gaming desktop. They have plenty of room for upgradability, translating to a longer lifecycle. You can add more RAM, SSDs, or switch to a more powerful graphics card to take your PC performance to the next level. Plus, there are plenty of ports to connect lots of gaming accessories.
If you buy a gaming chair and table for the PC, then you have a very powerful gaming station at home that you would never want to leave.
Gaming Laptops Give Performance and Portability
If you're the home kind of person who doesn't like to step out much, then gaming desktop is a better bet for you. However, if you like to get out and do gaming at different places, then it's better to go for a gaming laptop. Nowadays, gaming laptops have become really powerful enabling you to play the latest games at high frame rates. Gaming laptops come with QHD resolution IPS display combined with anti-glare, 144 Hz refresh rate and 7 ms response time. The Omen gaming laptops from HP for instance, are packed with an RGB gaming keyboard, a large trackpad, and DTS: X Ultra Technology that provides specially tuned audio modes for various types of gaming. Plus, there are ample number of ports to include additional peripherals depending on your gaming needs.
You can also use a gaming laptop as a desktop by adding one or two external monitors along with numerous gaming accessories. In fact, apart from screen, if you attach an external keyboard and mouse, then you can create a desktop-like setup with a gaming laptop. The only limitation here is that it's not as upgradable as a gaming desktop.
Design wise also, gaming laptops can look pretty cool with lots of fancy LEDs multi-color backlit keyboard, etc.
Conclusion
Both gaming desktops and laptops have their own benefits. While laptops win over portability, desktops are better in terms of upgradability. You get similar performance for a similar configuration.
One limitation that gaming laptops have overcome is with their cooling. Earlier, the cooling system was a challenge in laptops, but OEMs like HP have introduced cooling technologies like OMEN Tempest Cooling in their gaming laptops. These keep your processor and other internal components cool even when your gameplay heats up.
You can get a powerful gaming desktop or laptop for around INR 2 Lakhs. OMEN by HP Gaming Laptop 16 b1371TX for instance is a very powerful device and costs INR 190,599. If you'd rather have a desktop, then you can check out the OMEN 40L Gaming Desktop PC GT21-0003in. It costs around 10k more at INR 199,999. In terms of configuration, both are almost equally powerful–12th Generation Intel Core i7 processor, 16 GB RAM, NVIDIA GeForce RTX 3070 Ti, and 1 TB SSD.
Overall, both gaming laptop and desktop are worth the money. You just need to choose based on what you prefer more—portability or upgradability.